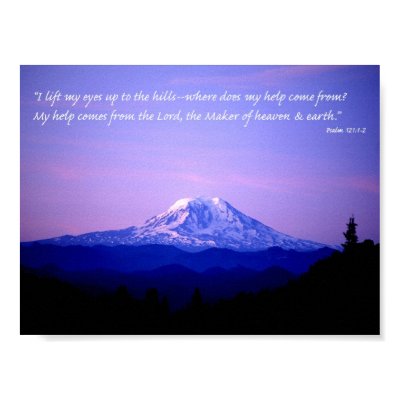 Even though I am not a regular churchgoer, nor do I read the bible, when I do come across a bible passage that touches me I appreciate what the bible offers. A friend shared the below passage with me and since last week was an emotional rollercoaster for me, reading this made me feel better. I believe it is alright to embrace different religions and pull different ideas from what each one teaches in order to understand and know God in the way that best suits me. Essentially, all religions are teaching about Love and finding your way toward enlightenment. Whatever path, religion, or belief, you choose to help you get there is perfectly perfect because I believe it doesn't matter how you get there; as long as you get there.
1 I lift up my eyes to the hills—
where does my help come from?
2 My help comes from the LORD,
the Maker of heaven and earth.
3 He will not let your foot slip—
he who watches over you will not slumber;
4 indeed, he who watches over Israel
will neither slumber nor sleep.
5 The LORD watches over you—
the LORD is your shade at your right hand;
6 the sun will not harm you by day,
nor the moon by night.
7 The LORD will keep you from all harm—
he will watch over your life;

8 the LORD will watch over your coming and going
both now and forevermore.